World Engineering Day for Sustainable Development is celebrated on 4th March every year as a UNESCO international day of celebration of engineers and engineering.
The day offers an opportunity to highlight engineers and engineering's achievements in our modern world and improve public understanding of how engineering and technology are central to modern life and for sustainable development.  The theme of World Engineering Day this year is Build Back Wiser: Engineering the future, which recognises the important work that engineers need to do to ensure a better future. 
The celebration of World Engineering Day is also about promoting engineering as a career and how it is an opportunity to change the world for better.
"Engineers aren't very good at articulating the value of engineering and the impact that engineers and engineering have on society. This is a wonderful opportunity to talk about these aspects and engage the community in the work of engineers", said Dr. Marlene Kanga, the Past President of the World Federation of Engineering Organizations. 
Building a sustainable future at JCA
At JCA, we are building a positive sustainable business that contributes towards our community by creating environmental and social value, as well as contributing to the broader societies in which we work.
Energy efficiency
We are deeply involved in ensuring that sustainability is embedded in everything we do. We develop programmes to ensure our business, employees and supply chain are sustainably competent and are committed to ensure we meet and exceed legal and ethical requirements. Our teams are driven to continually improve sustainable performance through control / improvement programmes.
We believe in incorporating energy efficient technology into all our projects and can help decide what options will make a building sustainable, both environmentally and economically. We design and build with sustainability in mind, and create award-winning projects that are not only sustainable but also enhance the wellbeing of the people who work in them.
Technical talent
Engineering is an exciting, varied and rewarding career however there is a shortage of younger people applying for engineering courses and engineering jobs in the UK. One of the prime reasons for this is that many young people are unsure what engineering is and what engineers do. The growing skills gap in the engineering industry is a worry.
In the February 2020 issue of the Facilities Management Journal, JCA discussed how we found, trained and motivated our staff to ensure continuation of services in the years to come. Offering an apprenticeship is only one of the ways to help fill the skills gaps, upskill and revitalise the workforce to ensure the business is future proof and future ready. Another issue is the continuing gender disparity in engineering. At JCA, we are working hard at supporting women in varied roles, including engineering, throughout the business.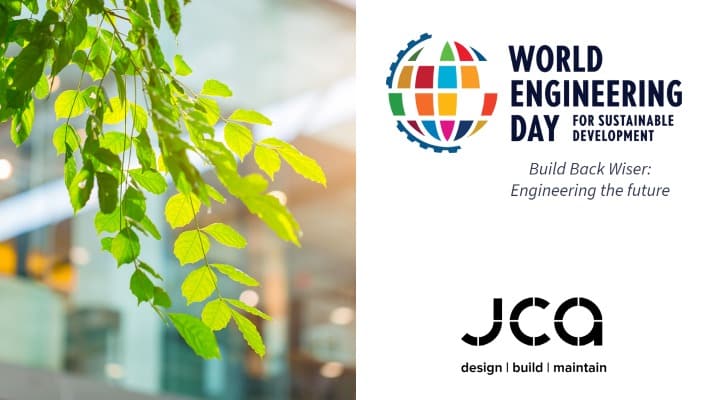 ---
Further reading: