Stress Awareness Month has been held every April since 1992 to raise awareness of the causes and cures for our modern days stress epidemic.  Millions of us around the UK are experiencing high levels of stress and it is damaging our health. Stress is one of the great public health challenges of our time, but it still isn't being taken as seriously as physical health concerns.   
Stress is a significant factor in mental health problems including anxiety and depression. It is also linked to physical health problems like heart disease, problems with our immune system, insomnia and digestive problems. Individually, we need to understand what is causing us personal stress and learn what steps we can take to reduce it for ourselves and those around us.
Stress Awareness Month at JCA
Over the month of April, each week we will be sharing with our staff tips on how to manage stress, how to become more resilient and how to rest properly. We have also sent out a wellness pack to each of our employees, containing useful information, treats and other items that can help manage stress in everyday situations.
Importance of community
This year, the official theme for the Stress Awareness Month is Community. A community is much more than just a group of people. It is about having a sense of belonging and connection to others and feeling supported and accepted by them. People who are more socially connected to family, friends, or their community are happier, physically healthier and live longer, with fewer mental health problems than people who are less well connected.
To make it easier and more fun to connect with colleagues across JCA, we have created new channels on our internal social media dedicated to a variety of non-work interests. Currently, these topics range from Physical Health/Fitness and Film/TV Shows to Gardening and Our Pets.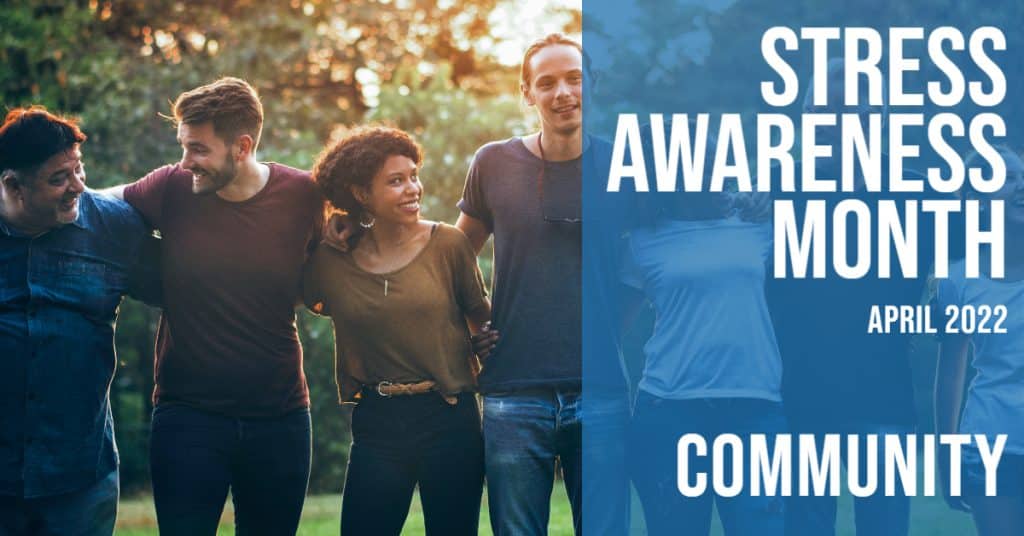 Wellbeing at the core
JCA values the health and wellbeing of all our employees and recognises that balancing everyday life together with the requirements of work and home can create pressure for everyone. We aim to establish a positive health and wellbeing culture that includes awareness, understanding, effective processes and positive behaviour by employees at all levels. We fully recognise that mental and physical health and wellbeing are equally important and that work can have a potential impact on both.
Mental aid first aiders
We take a "we're in this together" approach – everyone has their part to play in ensuring that support can be accessed as needed, with dedicated support roles available. We have mental aid first aiders who are trained in mental health awareness and can support mental ill health and offer sign posted support. A number of our senior managers and line managers have also attended 'Line Manager Mental Health Awareness Training' run by Mind UK. This training aims to provide line managers with a better understanding of the impact of stress and mental health difficulties and the confidence to manage mental health in the workplace, which promotes wellbeing and understanding across the teams and reduces perceived stigma when discussing mental health issues.
Health and Wellbeing Champions
Talking about mental health at work can be daunting: people may worry about how they will be treated and how their colleagues will react. We therefore invited JCA employees across the business to volunteer to become Health and Wellbeing Champions. Our Champions help implement and support JCA's wellbeing and mental health programme through raising awareness of wellbeing, promoting healthy lifestyles and positive mental health. Every Champion attended an internationally recognised training course 'Mental Health Champions', accredited by Mental Health First Aid (MHFA).
Employee Assistance Programme
As part of our commitment to health and wellbeing of our staff, we have implemented an Employee Assistance Programme, delivered by an independent external organisation, which provides confidential support and guidance relating to personal issues via telephone and online advice, support and counselling services. The services include help with home and work life, physical and emotional health, wellbeing resources, self-help programmes, webinars and other.
---
Further reading: